In this article, we will explore the differences between South Korea and Vietnam, two countries located in the Asian region. They have significant differences in culture, economy, and politics.
I. Geography
1. Location
Việt Nam
Vietnam is situated in Southeast Asia and shares its northern border with China, western border with Laos and Cambodia, and has a long coastline along the South China Sea and the East Sea.
Vietnam features diverse geographical terrain, including mountains, plains, coastal areas, and deltas. It has high mountain ranges like the Truong Son Range in the central region and the Hoang Lien Son Range in the north.
South Korea
South Korea is located in East Asia and is situated on the Korean Peninsula. It shares its northern border with North Korea and has an eastern coastline along the Sea of Japan.
South Korea also has mountainous terrain with various mountain ranges such as the Taebaek Range and the Sobaek Range. However, it also has large flat areas like the West Sea Coastal Plain in the west and the central region surrounding the capital city, Seoul.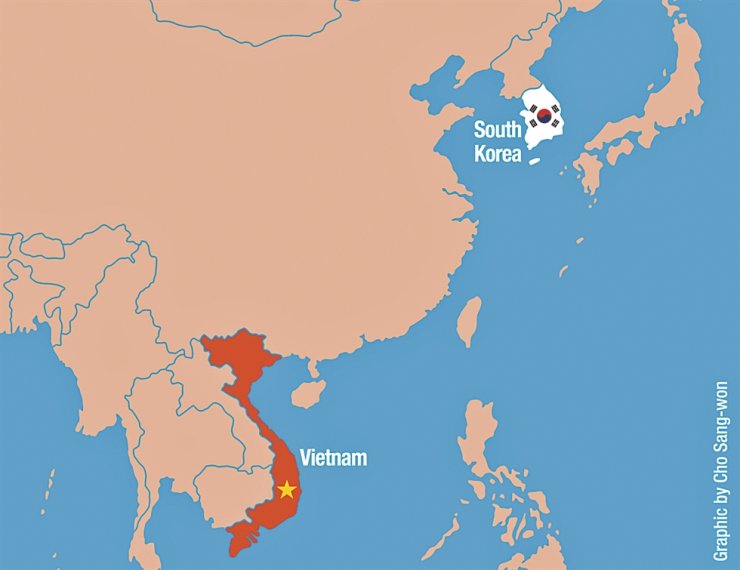 2. Area.
Vietnam has a larger land area than South Korea. Vietnam is one of the largest countries in Southeast Asia with an area of approximately 331,000 square kilometers, while South Korea has a significantly smaller land area, around 100,000 square kilometers.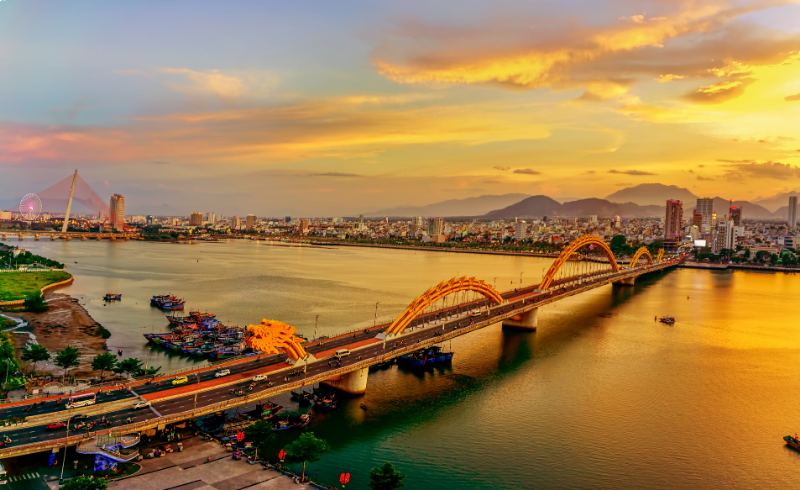 3. Climate
Here are some differences in climate between Vietnam and South Korea:
The average annual temperature in Vietnam is higher, ranging from 23-27 degrees Celsius, while in South Korea, the average temperature ranges from 10-16 degrees Celsius. Vietnam experiences hot and humid summers, whereas South Korea has milder summers.
Vietnam receives abundant rainfall concentrated during the rainy season from May to October. South Korea experiences more rainfall during the summer, with the other seasons being drier.
Vietnam is less affected by typhoons and flooding, while South Korea frequently experiences the influence of monsoons and typhoons in the autumn.
Vietnam has more sunshine and stronger sunlight radiation, while South Korea has fewer sunny days and more foggy days.
Humidity in Vietnam is higher compared to South Korea.
In general, Vietnam has a hotter and more humid climate compared to South Korea. South Korea has four distinct seasons and a milder climate.
II. Population
Vietnam's population in 2023: Approximately 99.2 million people.
According to data from the General Statistics Office of Vietnam, as of April 2022, the country's population was 97.7 million people. With a population growth rate of about 1% per year, it is projected that Vietnam's population in 2023 will be around 99.2 million people.
South Korea's population in 2023: Approximately 51.3 million people.
According to statistics from the National Statistics Office of South Korea, the population of South Korea in 2022 was 51.1 million people. With a population growth rate of about 0.2% per year, it is projected that South Korea's population in 2023 will be around 51.3 million people.
Therefore, Vietnam has a population nearly double that of South Korea, and the population difference between the two countries is quite significant.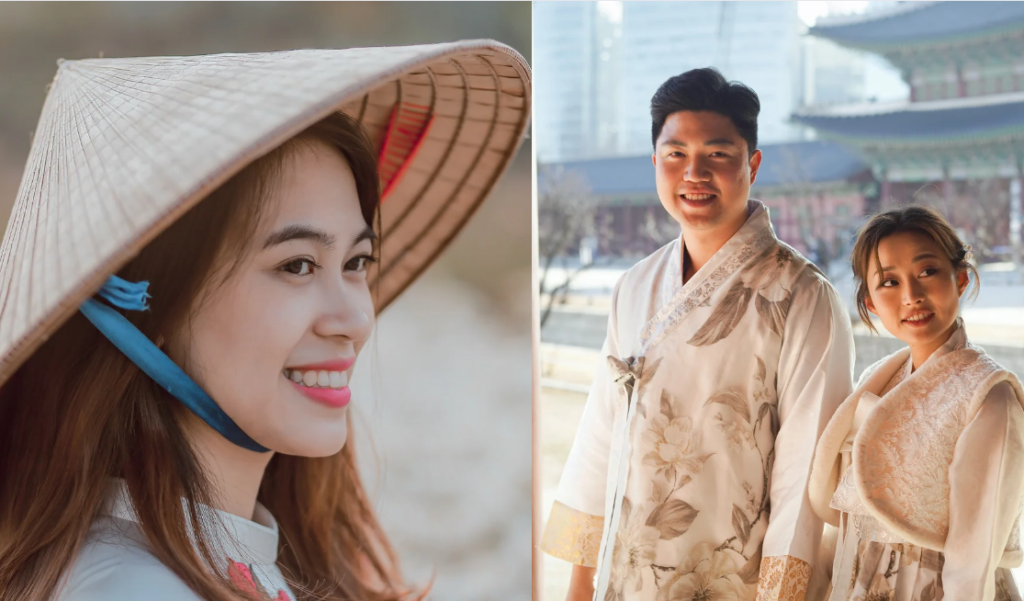 III. Economy
Some differences in the economy between Vietnam and South Korea:
GDP scale: South Korea has the fourth-largest economy in Asia, with a GDP of $1.8 trillion in 2021. Vietnam ranks fourth in Southeast Asia, with a GDP of approximately $362 billion in 2021.
Economic structure: South Korea's economy relies heavily on industry and exports. Vietnam still relies heavily on agriculture, private enterprises, and small and medium-sized businesses.
Average income: South Korea has a high average income, with per capita income around $34,000. Vietnam has a lower average income, with per capita income around $3,500.
Exports: South Korea exports a wide range of technology and automotive products. Vietnam primarily exports textiles, garments, and agricultural products.
Foreign direct investment (FDI): South Korea attracts significant investment from the United States and the European Union. Vietnam attracts FDI from South Korea, Japan, and Singapore.
Inflation: South Korea has low inflation, around 2%. Vietnam experiences higher inflation, around 4%.
In summary, South Korea's economy is more developed and modern compared to Vietnam. Vietnam is in the process of development to catch up with South Korea.
IV. Politics
Vietnam is a Socialist Republic, where the Communist Party of Vietnam (CPV) is the only allowed party and exercises leadership over the country. Vietnam has a multi-tiered system of government, including the National Assembly, the Government, and party committees at various levels.
South Korea is a democratic republic with a multi-party political system. Several political parties operate within South Korea's political system, and leadership is transferred through democratic elections.
Vietnam has a close relationship between the Party and the State, with a single-party system. South Korea separates the Party and the State.
Vietnam has a Head of State and a Head of Government, while South Korea has a President who serves as both the Head of State and the Head of Government.
In terms of political structure and ideology, Vietnam and South Korea have significant differences. Vietnam's political system is characterized by single-party rule, while South Korea has a multi-party democratic system.
Vietnam has a President and a Prime Minister. South Korea only has the President as its head of state.
V. Social and culture
1. Language:
Vietnam's official language is Vietnamese, which uses the Latin alphabet with diacritics. South Korea's official language is Korean, which uses the Hangul script.
2. Religion:
Below is a list of religions in order of popularity in Vietnam:
Buddhism: This is the most popular religion in Vietnam, with approximately 14.9 million Buddhists, accounting for about 16.4% of the population. Buddhism is present in all regions of Vietnam.
Catholicism: Around 7 million Catholics, primarily concentrated in the northern provinces. This is the second-largest religion in Vietnam.
Protestantism: There are about 1.5 million Protestant believers, mainly among ethnic minorities in the Central Highlands and Northwest regions.
Caodaism: Approximately 2.5 – 4 million followers, concentrated in the southern part of the country.
Islam: Around 70,000 Muslims, mainly in the southern provinces.
Hinduism: Approximately 60,000 Hindus, primarily in Ho Chi Minh City.
Hoa Hao Buddhism: Around 1.5 – 2 million followers, prevalent in the southwestern part of Vietnam.
Here is a list of religions in order of popularity in South Korea:
Non-religious: Approximately 46.5% of the South Korean population, including those who do not follow any specific religion.
Buddhism: Around 15.5 million Buddhists, comprising 23.1% of the population. Buddhism originated from China.
Protestantism: Approximately 8.6 million believers, accounting for 12.8% of the population, with a significant presence of the Presbyterian Church.
Catholicism: Approximately 5.3 million Catholics, making up 7.9% of the population. Catholicism was introduced to South Korea in the 18th century.
Won Buddhism: Approximately 2.3 million followers, constituting 3.4% of the population. This is an independent sect of Korean Buddhism.
Confucianism: About 0.4 million adherents of Confucianism.
Other religions: There are only a few thousand followers of other religions in South Korea.
3. Family and Society:
Both Vietnamese and Korean cultures have strong influences from Chinese culture, but there are some differences:
Vietnam tends to emphasize the importance of family and has an extended family system where multiple generations live together and share responsibilities, especially in caring for the elderly. South Korea also values family but has been moving towards smaller, more independent family structures.
Vietnamese society places a high value on age and male gender. South Korean society has made progress in gender equality.
Vietnamese people prefer to work in groups and value social relationships. Koreans tend to be more competitive and focused on personal advancement.
Vietnamese culture is characterized by politeness and humility, while Korean culture tends to be more direct and straightforward.
Vietnamese families often favor having sons, while Korean families do not differentiate between sons and daughters.
4. Traditional Clothing
Traditional Vietnamese clothing often includes the "áo dài" for women and "áo gấm" for men.
South Korea has traditional clothing called "hanbok," which features unique designs and colors.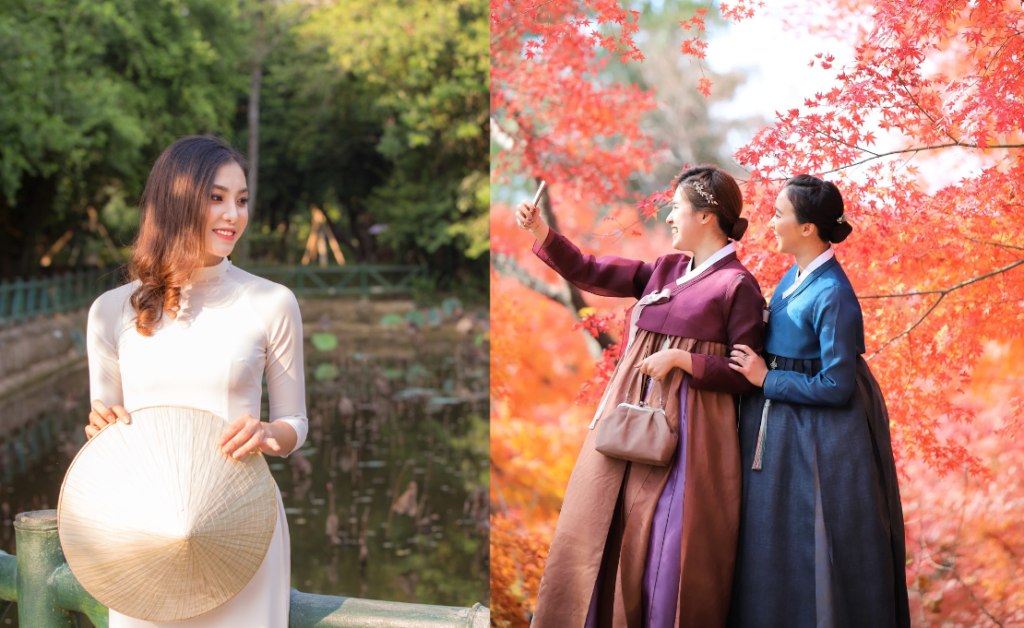 VI. Cuisine
Main Ingredients:
Vietnamese cuisine features a lot of fresh herbs, raw vegetables, and various spices. Vietnamese cuisine often incorporates fish sauce and soy sauce.
South Korean cuisine uses various fresh vegetables and fruits, relying less on herbs. Korean cuisine commonly uses chili paste, soybean paste, and strong spices.
Meat and seafood are primary ingredients in Vietnamese cuisine, while South Korean cuisine relies more on tofu and vegetables.
Preparation
Vietnam processes food faster, with shorter cooking times. Koreans are very patient, using a long time to simmer, stew, or boil food thoroughly.
Vietnamese people prefer using a variety of spicy, salty, sour, and strong flavors. Koreans lean toward sweet and spicy flavors.
Vietnamese cuisine often involves stir-frying with oil or fat, while Korean cuisine uses various methods like steaming, boiling, and grilling to preserve nutrients.
Vietnamese food is often thinly sliced or chopped to cook quickly. Koreans tend to keep ingredients large to maintain natural flavors.
Vietnamese cuisine tends to combine multiple ingredients in one dish. Korean dishes often separate ingredients.
Vietnamese meals are mixed and shared, while Korean dishes are typically presented with each component separated to preserve their appearance.
Famous Dishes::
Here is some of the famous dishes of Việt Nam:
Phở: Phở bò (beef pho) and phở gà (chicken pho) are the most iconic dishes in Vietnam.
Bún chả: A dish consisting of vermicelli noodles served with grilled pork.
Bánh mì: Includes various types of sandwiches, such as bánh mì thịt (meat sandwiches) and bánh mì trứng (egg sandwiches).
Bánh xèo: A savory pancake made from rice flour and filled with shrimp, meat, and vegetables.
Gỏi cuốn: Fresh spring rolls made with rice paper and typically filled with meat, shrimp, and vegetables.
Cơm tấm: Broken rice served hot with grilled meat.
Famous dishes of South Korea include:
Kimchi: Made from fermented cabbage or other vegetables with salt.
Bibimbap: Mixed rice with vegetables and beef.
Bulgogi: Thinly sliced grilled beef.
Samgyeopsal: Grilled pork belly.
Jjamppong: Spicy seafood noodle soup.
Tteokbokki: Spicy rice cake dish.
Dining Styles:
Vietnamese people enjoy socializing and strengthening relationships over drinks, often spending many hours together. Koreans, on the other hand, prefer quick and efficient drinking sessions with minimal conversation.
Vietnamese men tend to drink strong liquor and beer primarily for merriment. Korean men commonly drink beer and soju as their main choices for relaxation.
In Vietnam, various dishes like hot pot, grilled food, and salads are often served alongside drinks. In contrast, Koreans typically order side dishes like kimchi and tofu while drinking.
Vietnamese people often invite each other for drinks and may not insist on splitting the bill. In Korea, it's more common for individuals to take turns paying.
Both Vietnam and South Korea use both spoons and chopsticks for dining.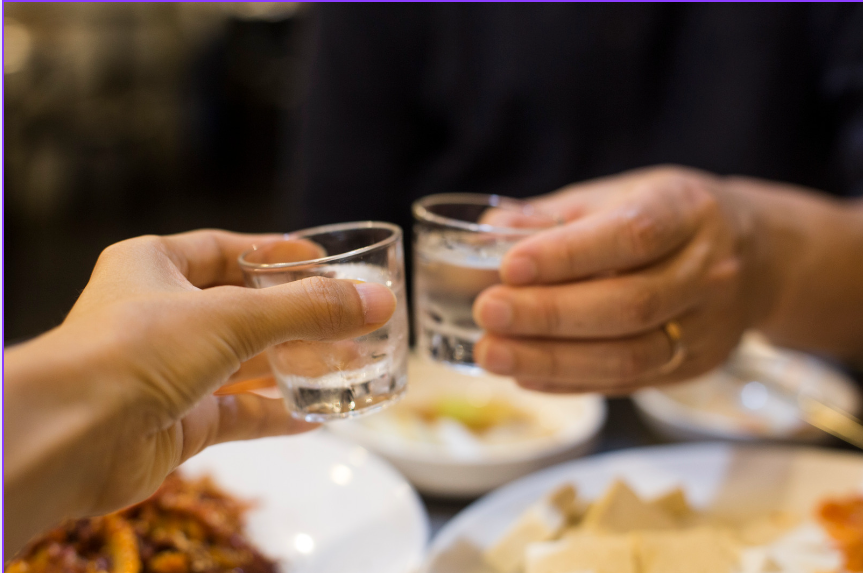 VII. Infrastructure
Transportation and Highway Systems:
South Korea has a developed transportation system with a network of highways, railways, and modern public transportation facilities. This facilitates convenient movement and connectivity between cities and regions.
Vietnam is heavily investing in its transportation and highway systems, but infrastructure is still under development and incomplete in some areas. Urban traffic in major cities can be quite congested.
Public Infrastructure:
South Korea has modern public infrastructure, including hospitals, schools, shopping centers, and other public facilities. The healthcare and education systems in South Korea are highly regarded.
Vietnam is improving its healthcare and education systems, but there are still many limitations, especially in rural and remote areas.
South Korea has a modern sewage system that covers the entire country, while Vietnam primarily focuses on major cities.
The percentage of the population with access to clean water is 100% in South Korea, while Vietnam has achieved around 60-70%.
Industrial and Technological Infrastructure:
South Korea is an industrialized nation with a modern industrial sector. It leads in technology, producing automobiles, electronics, and consumer goods.
Vietnam is experiencing rapid growth in the industrial and technological sectors, with industrial infrastructure still under construction and development, making it difficult to compare with South Korea.
Energy and Environment:
South Korea invests heavily in clean energy sources and environmental protection, maintaining a stable power grid and utilizing various renewable energy sources.
Vietnam is exploring clean energy solutions and considering environmental protection measures but faces challenges related to pollution and energy sources.
VIII. Famous Things of Both Countries:
Famous things of Vietnam:
Pho: A famous traditional Vietnamese dish, consisting of noodles in a flavorful broth with meat and spices.
Vietnamese Coffee: World-renowned for its distinctive flavor, Vietnam accounts for 20% of global coffee production, second only to Brazil.
Halong Bay: A notable tourist destination known for its unique limestone islands and stunning scenery.
Ao Dai: Vietnam's traditional dress, known for its elegant and intricate design.
Banh Mi: An essential part of Vietnamese cuisine, often enjoyed as a popular breakfast.
Cai Rang Floating Market: A famous floating market in Can Tho, where merchants sell goods from small boats.
Non La: Traditional conical leaf hats made from bamboo leaves.
Son Doong Cave: The world's largest cave, located in Quang Binh, Vietnam.
Hoi An Ancient Town: A historic district in Hoi An with classical architecture, attracting tourists.
Ho Chi Minh City: Vietnam's largest and most dynamic city.
Bun Cha: A delicious and popular Vietnamese dish consisting of grilled meat and noodles served with dipping sauce and fresh herbs.
Vietnamese People: Known for their friendliness, hospitality, and strong sense of filial piety.
Folk Arts: Traditional Vietnamese folk arts like Quan Ho singing, dragon dance, and Dong Ho paintings are unique cultural elements.
Famous things of South Korea:
K-pop: Korean music genre that has achieved global success, featuring groups like BTS, BLACKPINK, and EXO.
K-drama: Korean television dramas, known for series like "Descendants of the Sun," "Crash Landing on You," "Squid Game," and "Vincenzo."
Kimchi: A traditional Korean dish made from fermented cabbage and spices, a staple in daily meals.
Hanbok: Traditional Korean clothing known for its unique design and vibrant colors.
Taekwondo: A traditional Korean martial art that has become a popular sport worldwide.
Samsung: South Korea's largest and globally renowned technology company, specializing in electronics and mobile phones.
Hyundai and Kia: Prominent South Korean automobile manufacturers.
Han River: The Han River is a significant part of Seoul's urban landscape, used for recreation and sports activities.
Gangnam Style: A famous song by PSY and its music video became an international symbol of Korean culture.
K-beauty: The South Korean beauty industry, known for skincare products and plastic surgery technology.
Bibimbap: Another traditional Korean dish consisting of white rice, vegetables, and meat, topped with seasonings and sauce.
Kimchi Jjigae: A soup made with kimchi and meat, often enjoyed in Korean meals.
Soju: A popular Korean alcoholic beverage made from barley or sweet potatoes.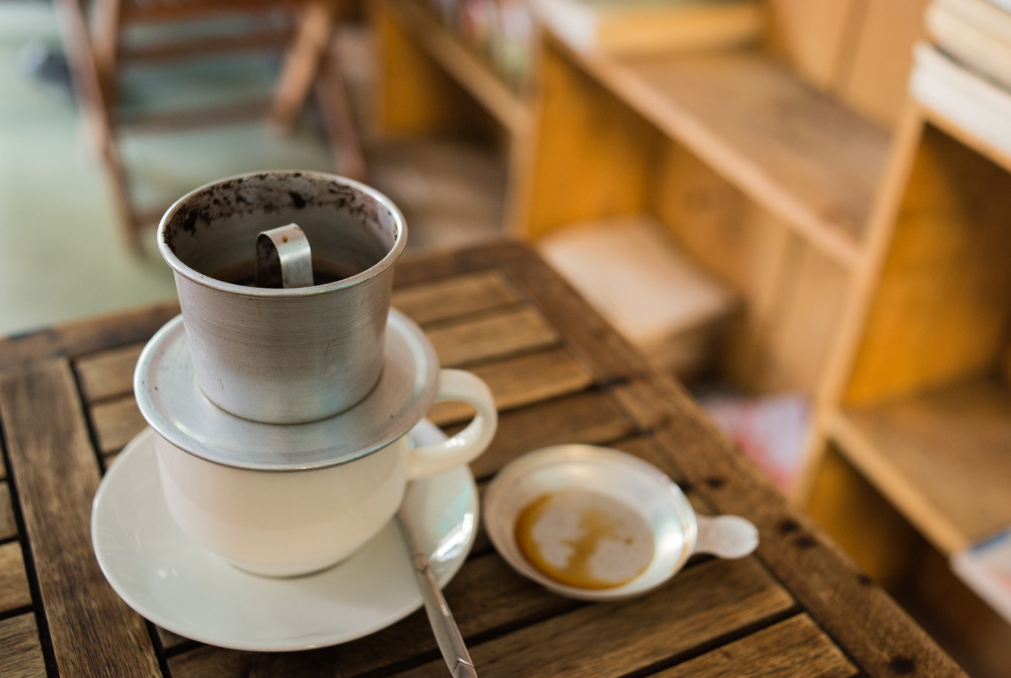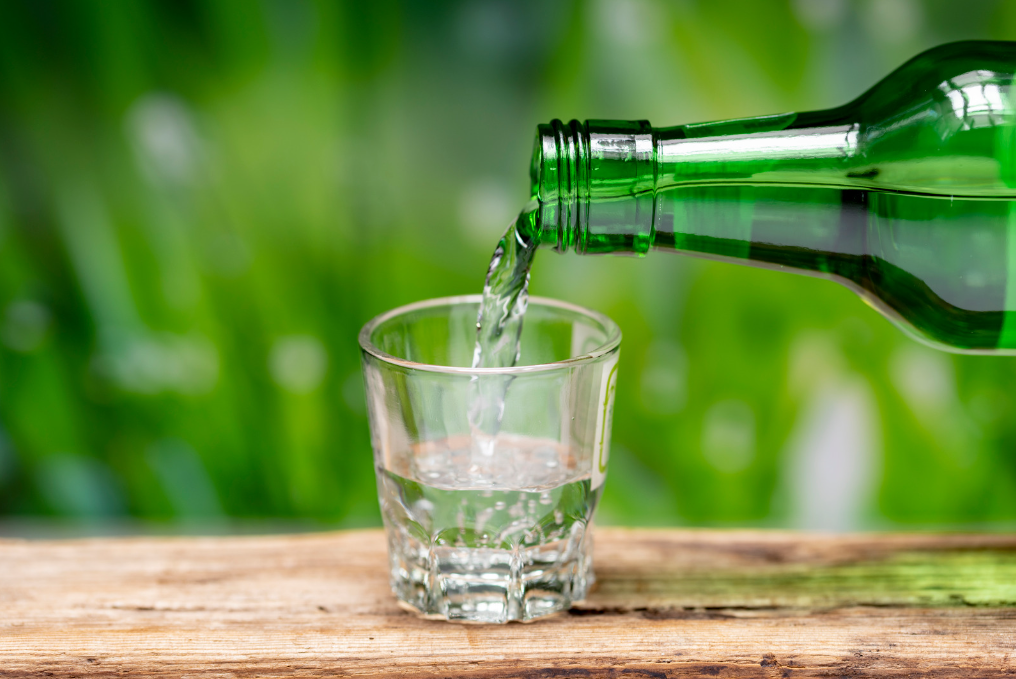 These are some of the notable differences between South Korea and Vietnam. Both countries have distinct characteristics and contribute significantly to the economic and cultural development of the Asian region.